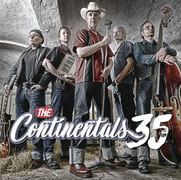 On 19th May 2017 the eleventh album of the Continentals will be released

Later, as originally planned, the Frankfurt-based label Foxrocks by MCDP International publishes the anniversary album for the 35th anniversary of the Munich rockers. But the wait was worth it and the fans can look forward to it! With the exception of "Rock This Place", a Fabulous Thunderbirds cover in swing format, 13 new compositions are in the best tradition of Rock'n'Roll, Rockabilly and Country/Cajun style. Variety is guaranteed!

Like the last two albums "Best Rockin' Christmas Of Them All" (2011) and "My Rose Tattoo" (2013), the new work, with interruptions, was recorded from March to August 2016 in the band's own Rose Tattoo Recording Studios Munich, Germany. And also mixer Frankie Chinasky was again on board - mix and mastering come from his Munich studio La Playa.
The album will be available on CD as well as download and includes the following songs: 35 Years Of Rock'n'Roll, Everybody Wants It (My New Tattoo), Jumpers Jump, Fastlane Junkie, Shades Of Blue, Hey Babe, Fly High, Move On, High Noon, Master Of the Universe, Get On, Shut The Fuck Up, Rock This Place, On Horseback With My Girl.

---