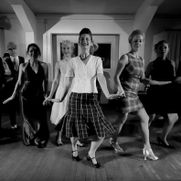 The current video clip of the Continentals "Cathouse Blues" is available on YouTube.
With which are the wonderful dancers of the Boogie Magic's, where the band would like to thank for their cooperation. The Munich filmmaker Hanns Gröner is responsible for recording, editing and finishing.
The song was written by Rolf Pröpper (music) and Mike Moritz Roth (lyrics) and published on the CD "My Rose Tattoo" (FOXROCKS, FOXCD 708). The cast of the Continentals in the video: Mike Roth (vocals), Rolf Pröpper (guitar), Alessandro Brero (drums), Sigi Hümmer (bass).
The dancers of the Boogie Magic's are in alphabetical order: Andreas Albrecht, Beatrix Albrecht, Michael Becht, Manfred Becker, Jessica Eucken, Sigrun Fincke, Richard Forster, Elke Langer, Florian Prosch, Heidi Rems, Sibylle Stärk, Thomas Veigl, Hans Wittlinger, Petra Wittlinger.
---